Market Reef & Aland Islands DXpeditions
OJØ - OHØ /K7BV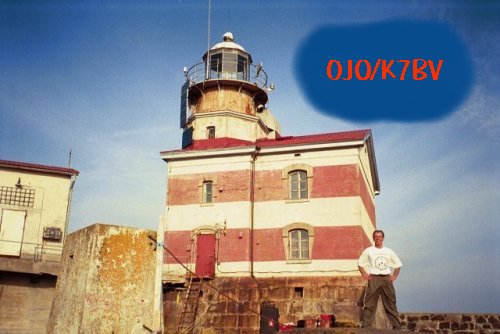 DXpedition Profile

Updated April 7, 2000
Return to K7BV DX-Ventures Home
See bottom of page for OHØZ, OHØ/K7BV and OJØ/K7BV Log Search
The following provides details of two DXpeditions to Market Reef and the Aland Islands that occurred in May and September 1999 by Dennis Motschenbacher K7BV with generous help from Finnish friends Ari OH1EH, Jukka OH2MAM, Juha OH1JT, Seppo OH1VR, Pasi OH1MM and "The Boss" Lars OHØRJ.
Over 26,000 QSOs were logged during the two trips.

September DXpedition Report
The September trip to OJ and OH proved to be a tough one. The trip opened as promised with a concentrated 80 and 160 meter effort by Ari OH1EH and Dennis K7BV operating from the OHØZ super station throughout the evening of Monday September 13th until sunrise on Tuesday. Only 110 QSOs were logged - a certain indicator that difficult conditions lie ahead for the Market Reef DXpedition.

Another omen of trouble ahead occurred at the Mariehamn airport when the helicopter pilot refused to carry the three operators and their gear to the reef in one trip, instead stubbornly demanding that two expensive round-trips would be required. Lars and a lot of the gear went out on the first trip with Seppo and Dennis following with the rest of the gear later.

Disturbed propagation greeted the ops after they rushed through antenna erection work necessitated by the delayed arrival on Market Reef. The propagation gods seriously challenged the operators' attempts to achieve their goal of making 12,000 QSOs. The trip did keep its focus, though, on making as many 160 and 80 meters QSOs as possible. North American contacts were few and far between on all bands with the RF absorbing auroral zone extending deep into southern latitudes. K indexes as high as 6 were copied by the anxious operators. They also received reports of visible aurora as far south as southern Germany.

The inverted L for 160 and the vertical for 80 were erected on the reef as planned but even this effort did not produce the desired contacts with the North American Top Band crowd who so generously financially supported the DXpedition. Dennis concentrated on these two bands each night ignoring openings on the other bands. The antennas did produce QSOs on both bands as far away as VK6 and other distant points. The only NA QSO completed on 160 was almost perdicably made with VE1ZZ. W3UR got the first 80 meter contact but only a small handful of other NA QSOs were logged there. 40 was also a disappointment to NA with only one good pile-up producing opening - and that being during that last 2 hours on the reef.

The September trip low bands effort did produce over 300 160 meter contacts while 800 QSOs were logged on 80.

Slightly over 10,000 total contacts were made on all bands 160 - 10 meters.

Sketch - Sketch of 160/80 meter antenna (By N6FF)

Antenna Photo - Simulated photo of what the antenna looked like when installed on the reef.
Trip Information
The September trip involved use of the following callsigns by the various operators: OJØ/K7BV, OJØVR, OJØRJ, OJØJ, and OJØ/OH1MM. The combined total number of contacts was in excess of 10,000. This is the second 1999 trip to Market Reef by the group. The earlier May DXpedition netted 6,000 OJØ/K7BV QSOs while Seppo OH1VR logged an additional 2,000 QSOs during that trip using OJØVR.
Photos from the May trip are available below for your enjoyment.
Mission Statement
Make as many CW and SSB contacts as possible on all bands, 160 through 10 meters, in an orderly and controlled manner that provides equal opportunity as dictated by propagation for operators from all corners of the world to complete a contact with Market Reef & the Aland Islands (OJØ & OHØ respectively).
Pay particular attention to lowering the demand for contacts with OJØ & OHØ on the 160, 80 meter and WARC bands.
Conduct activities in a safe, legal and complementary manner such that the operator and callers enjoy the end result of the DXpedition.
Answer requests for a QSL confirmation in an expedient manner.
Locations
Aland Islands:

The Aland Islands form an autonomous, demilitarized and unilingually Swedish province of Finland. They consist of more than 6,500 islands and skerries.

The largest island is "Fasta Aland" (the Main Island), where 90 per cent of the population live. It extends over more than 70 per cent of the total land area of Aland, and its greatest distance is 50 km from north to south and 45 km from east to west. In spite of its small land area, Aland can boast 905 km of public roads.

Population. Today Aland has the largest population it has ever had. According to a travel book written by F.W. Radloff in the 18th century, the population of Aland at that time was about 11,000, inhabiting 80 of the islands. In 1905 there were some 22,000 inhabitants, living in 150 islands altogether. In time many of the islands have been joined together or with the Main Island by means of bridges and causeways, while others are depopulated, and the 25,000 inhabitants live in only 65 of the islands. Slightly over 40 per cent of the population now live in the only town, Mariehamn.

Market Reef:

Reef - A chain or range of rocks or ridge of sand lying at or near the surface of the water. (Taken from an article by Dave Heil K8MN/OJØ - CQ Magazine May 1987)

There is no vegetation on the rock. A breakwater points to the north trying to stem powerful waves that frequently wash against the lighthouse. The country is just as wide as an 80 meter dipole.

Market Reef (Market Fyr) is a tiny dot of rock at 60 degrees, 18 minutes, 10 seconds north and 19 degrees, 8 minutes, 3 seconds east on most maps and charts is nonexistent on others. The reef is roughly 2 1/2 hours west of the westernmost island of Aland by small boat. It sits astride the Finnish-Swedish border and is of importance for its computerized remotely controlled weather station and because its lighthouse warns freighters plying the nearby shipping lanes of the dangerous rocks which abound in the area.

The lighthouse was erected in 1885 by the Russians, who then ruled Finland. Early records are quite difficult to come by and are written n the Russian language. Wooden barracks were constructed on the reef for the workmen who were to build the light. They began to lay its foundation from the rock quarried on the site. A tremendous storm swept away the barracks and the portion of the foundation that had been completed. Three men were lost to the angry sea. After this disaster, plans were revised and stone for the new foundation was quarried and cut to proper size in the Helsinki area and ferried to Market Reef ready to be set into place. The work crews slept aboard a ship anchored nearby and ferried to and from the construction site daily. Work was completed in a year.

During ensuing years two additional buildings were added and connected to the lighthouse by an elevated catwalk some 15 feet in the air. Access to the catwalk is via a series of iron rungs set in the wall of then furthest building or by a steel ladder at the lighthouse end. The middle building is the power generation site for the complex and houses three aged and unreliable diesel generators.
Market Reef Trip Planning
Landing Approval

Seppo OH1VR and Lars OHØRJ arranged landing permission.

Transportation

The operators used a helicopter to get to and from Market Reef. They chose this mode of transportation over a seagoing vessel to eliminate any chance of a delayed landing due to the unpredictable seas surrounding Market Reef.

Shelter

The lighthouse housed the operating positions and provided shelter from the elements for the operators.

Power

Lars OHØRJ owns a 6-KW diesel generator on the reef that provided power for the DXpedition. The article referenced above by Dave K8MN included the following about the arrival of this fine generator on the reef in 1987.

"The Finnish Coast Guard, through efforts by Lars Nikko, OHØRJ, was kind enough to airlift a new diesel generator in by helicopter and permit us to use it for our operation. Market Reef Power Unlimited (OHØRJ) was like working from commercial mains."

Emergency Planning

The operators did not experience any life threatening scenarios while on Market Reef. In the event they would have encounter a mishap, medical evacuation by helicopter would have been readily available. John, W2GD, proved this some years ago during his DXpedition to OJØ. He dislocated his shoulder when a vicious wind tossed him down onto the reef's rocks necessitating helicopter evacuation for treatment on Aland.
K7BV Profile
Dennis Motschenbacher - K7BV
Licensed as WV6WTD in 1962 at the age of 13, Dennis is an active DXer and Contester currently living in Carson City, Nevada. Previous calls and DXpedition experience include KZ5M AA7VB 8P C6 CY9 J6 KC6 KH2 KH6 KL7 KP2 KP4 KP5 KP6 OH OHØ OJØ P4 S5 SV9 TI V2 V4 V6 VE VK VP2E VP9 XE YB9 YV.
Dennis has been clocked at QSO rates of 300+/hr on both CW and Phone. Numerous contest certificates and plaques occupy proud space on his wall including two Third Place - World finishes in ARRL DX CW contests and three Top Ten - World IARU HF Radiosport CW finishes. He currently serves as Editor for the National Contest Journal; is an ARRL Life Member and past President of the Texas DX Society.
Pilot Station
George Wagner K5KG of recent 3B7RF fame performed Pilot Station duties.
Operating Plan
CW and SSB on all bands 160 through 10 meters. Dennis and the operators were on the air with at least one station on the air nearly 24 hours a day except during antenna work.
License
Dennis took advantage of the new CEPT participation by the USA to operate as OJØ/K7BV and OHØ/K7BV.
Equipment
The following equipment was used by K7BV in additional to the customary assortment of keyers, paddles, headphones, etc.
Transceiver: Yaesu FT1000MP
Amplifier: Dentron MLA 2500
Antennas
OJØ - Seppo OH1VR and his good friend and business partner, Lars OHØRJ, supplied a full complement of antennas suited for erection on the reef based on their past operations there. A R7000 vertical and one HF2V vertical were added to their stock. These antennas have been donated by Steve KU9C and will be left on the reef for use by Lars, Seppo and friends on future operations.

OHØ - The OHØZ station has an impressive assortment of antennas to chose from including:
1 - 140 ft. Rotating Tower with 4 stacked tribanders + 2/2 40 meter stack
1 - 100 ft. Rotating Tower with 2 stacked tribanders + 2el 40 meter
Various wires are used on the low bands.

For more information about this awesome station, visit the Radio Sporting Team website OHØZ
QSL Information
OJØ/K7BV & OHØ/K7BV -- Steve KU9C has unselfishly volunteered to serve as the DXpedition QSL Manager for all contacts using these two calls. A self addressed, return envelope is requested.

Steve Wheatley KU9C
P O BOX 5953
Parsippany, NJ 07054
USA

OHØZ

Ari Korhonen OH1EH
Kreetalank. 9 As 1
FIN-29200 Harjavalta
Finland

OJØRJ & J via OHØRJ

OJØVR via OH1VR
DXpedition Sponsors
Seppo OH1VR and his good friend and business partner, Lars OHØRJ, for handling logistics and supplying a full complement of antennas
K6RK and K3SX for collecting donations to help offset the helicopter expense.
The Northern California DX Foundation NCDXF for their generous support.
Dunestar who loaned bandpass filters for all bands 160 through 10 to insure the OJØ operators efforts are not hampered by inter-station interference.
Bud W6PBI for loaning spare 8875 finals for the MLA amplifier.
Steve KU9C for donating HF2V and R7000 vertical antennas that will be left on Market Reef for future operations by Lars, Seppo and friends.
Dick N6FF, Lloyd W6AJJ, and Bud W6PBI for worked hard to insure good efficient 160 and 80 meter antennas were built for the DXpedition.
Carl K9LA for providing a fantastic propagation forecast-based band plan.
Telia for their continuing support of Market Reef amateur radio operations.
Sponsors are welcome. Major sponsors will be recognized on the web site and on the QSL cards

W4MPY
Thanks for being visitor number
!
---
OHØZ, OHØ/K7BV and OJØ/K7BV Log Search
Check each log you wish to search:
---
Web site design assistance and hosting donated by KA9FOX at QTH.COM